Albatross Restoration
Rescue of a rare naval cutter
Built in 1946 as vessel number 272 at the Garden Island Dockyard, NSW, Albatross is thought to be the only Australian-built, 32-foot, pulling and sailing naval cutter in existence.
The 1st Fremantle Sea Scouts purchased the cutter from the Royal Australian Navy in 1957 for use as a training vessel. They fitted an engine and a covered foredeck, and named her Albatross.
By 1998 Albatross was proving too expensive to maintain and she was abandoned at the Swandocks slipways in Fremantle. An interest group persuaded the navy to place Albatross in storage at HMAS Stirling, Garden Island, with a view to preparing a restoration proposal.
In 2004 Albatross was transferred to Wooden Boat Works in Slip Street, Fremantle, where proprietor Graham Lahiff offered to accept her as a restoration project at his boatbuilding school. Following Mr Lahiff's untimely death in May 2005, the interim managers of Wooden Boat Works were compelled to put Albatross on notice for immediate disposal or dismantling. Accordingly, the Maritime Heritage Association expressed an interest in taking possession of her.
Restored by the Maritime Heritage Association
In June 2005, Wooden Boat Works and the Royal Australian Navy bestowed their interests in Albatross to the Maritime Heritage Association with the understanding that the association would restore the vessel and then donate her to an appropriate maritime organisation within Western Australia.
Maritime Heritage Association Life Member Barry Hicks was appointed project supervisor and took delivery of Albatross at the Hicks' Kenwick Yard where he began the painstaking task of restoring the cutter back to her original appearance. The Mast Raising Ceremony held in September 2006 marked the completion of the first phase of the conservation plan.
Connection with HMAS Sydney (II)
As Albatross is of the same pattern as the two 32-foot cutters that were carried on HMAS Sydney (II), it was proposed she be presented as a memorial to commemorate the loss of HMAS Sydney and the men who served on her. Starting in 2010 with funding from the Finding Sydney Foundation and Lotterywest, further work was undertaken to prepare the cutter for display, which included a trailer, viewing platform and interpretive display panels to enable Albatross to be put on exhibition at various public venues. At a ceremony marking the 70th anniversary of the sinking of HMAS Sydney, Albatross was dedicated as a memorial at the Hicks' Private Maritime Museum on 20 November 2011.
Carnarvon Heritage Group
In accordance with the Maritime Heritage Association's original charter to donate Albatross to an appropriate maritime organisation within Western Australia, a range of museums, associations and interest groups were invited to present an expression of interest to take ownership of the cutter. The Carnarvon Heritage Group's proposal to display Albatross alongside their Kormoran lifeboat as part of a permanent exhibition commemorating the battle between HSK Kormoran and HMAS Sydney, fulfilled all criteria for her preservation, public display and dedication as a memorial.
The Maritime Heritage Association gifted Albatross to the Carnarvon Heritage Group in April 2013 and delivered her by road transport in August 2013. The display was officially opened at the Carnarvon Heritage Group's One Mile Jetty Interpretive Centre on 12 July 2014.
For more information about the Albatross restoration please go to these editions of the MHA Journal.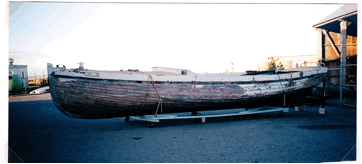 Albatross leaves Wooden Boats Works in June 2005. Non original features such as the covered deck and the solid wash strake (without rowlocks) can be clearly seen. Photo: Ross Shardlow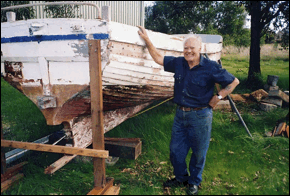 Having taken delivery of Albatross at the Kenwick Yard, Barry Hicks is all smiles despite the huge task ahead. The rubbing strake and quarter pieces are missing and she has been fitted with a solid keel to take a propeller shaft and aperture. Photo: Ross Shardlow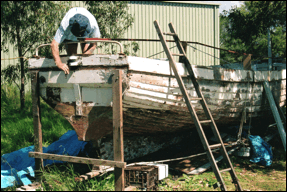 Work in progress - Barry removing a rudder gudgeon. Photo: Ross Shardlow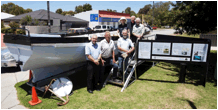 Dedication as a memorial to HMAS Sydney (II) in November 2011. MHA committee members stand with WA Museum Chief Executive Officer Alec Coles (far left) and Barry Hicks far right. The viewing platform and display panels were funded by grants from Lotterywest and the Finding Sydney Foundation. Photo: David Nicolson.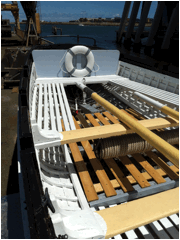 Albatross on display at the Maritime Museum in Fremantle in December 2011. The photo shows the replacement stern benches, backboard, bottom boards and thwarts. Remarkably, the grapnel-winch (under rear thwart) was still extant. Photo: Bob Johnson.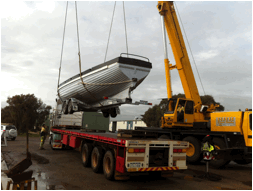 In April 2013 the MHA gifted Albatross to the Carnarvon Heritage Group. She is seen here on the first leg of the journey. Photo: Bob Johnson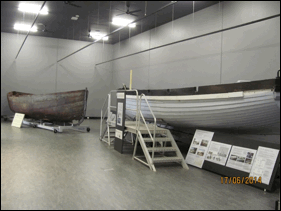 Albatross on display next to the Kormoran lifeboat in her new home at Carnarvon. Photo: Carnarvon Heritage Group.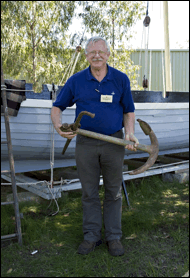 Ross Shardlow with Albatross's original Admiralty anchor that was donated to the MHA by 1st Fremantle Sea Scouts at the Mast Raising Ceremony 3 September 2006. Photo: Barbara Shardlow.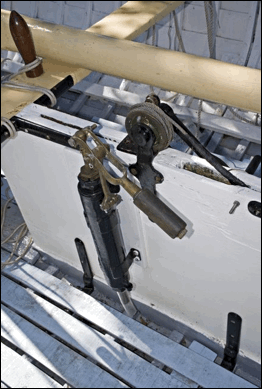 Detail showing the bilge-pump and centreboard winch, which were thought to be an irretrievable mass of corrosion, now reinstalled in working order. Photo: David Nicolson.