Activities
WA Historical Vessels Register
The Western Australian Historical Vessels Register is a record of all the vessels registered in WA between 1856 and 1969. This was produced by Rod Dickson, Honarary Life Member of the Maritime Heritage Association. We have made the record available as a downloadable Abobe Acrobat Reader pdf file. The Western Australian Historical Vessels Register is also available on CD-ROM from the Maritime Heritage Association. Any corrections, additions and contributions gratefully received!
» Download the Shipping Register (1.3mb)
Encouraging Vessel Restoration or Recording their Construction Lines
The success of the project to take the lines off the Little Dirk in Carnarvon during 2001 resulted in a rethink of what the Association could do in the future to help preserve Western Australian maritime heritage. Taking the lines off boats and ships is an essential way of preserving their design for future reference, even if the craft itself should disappear.

Lobby for the Preservation of Vessels and Buildings of Maritime Significance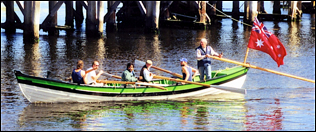 Replicating the past to inform the future:
Rottnest Island pilot boat.
This is has been an exciting and rewarding part of the Associations activities. Issues have ranged from the relocation of E-Shed on Victoria Quay through representation on Fremantle Ports Inner Harbour Community Liaison Group; to research reports informing developers of heritage issues such as the location of the first settlement at Clarence, development of a Victoria Quay maritime precinct in the West End.
New members with skills, concerns and contributions are always welcome in this area.
Modeling the Past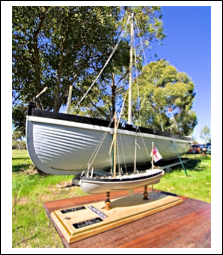 Naval cutter Albatross has been restored by Barry Hicks & captured forever in an accurate scale model by Brian Lemon.
The Association applied for grant assistance to build a road trailer so that this vessel can be publicly displayed by the Carnarvon Heritage Group.
Teaching the skills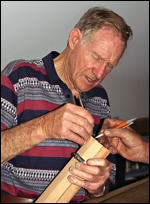 Spar making


Blocks, rigging & ropework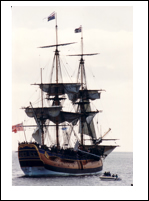 Fremantle built Bark Endeavour
Maritime Book Club
Meeting dates and locations vary so please contact our Secretary for further details and the date of the next meeting.