Publications
Below is a list of some of the current publications of the Maritime Heritage Association.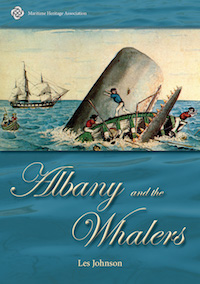 Republished in 2015 by the
Maritime Heritage Association.

Albany and the Whalers by Les Johnson
Albany and the Whalers chronicles the whaling industry's development and demise in Australia, from the voyage of the Emilia from Britain to the South Pacific in 1790, to Albany's rise as an important whaling centre in the mid-1800s, and the closure of the Cheynes Beach whaling venture in 1978.
Messing about in Earnest by Nick Burningham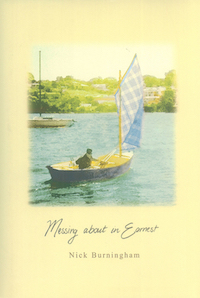 Take a river journey in a small boat with Nick Burningham at the helm. Messing About in Earnest is a delightful blend of travel writing, history, geography and real-life adventure. Nick drifts down the Swan and Canning Rivers in his trusty boat called Earnest. His book takes the reader on the trip of a lifetime with whimsical and humorous stories of the people, places and history he encounters.
Available: Fremantle Press, ABC Shop, The Chart and Map Shop and other quality outlets.
The Capes by Marcia van Zeller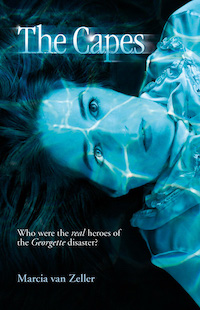 The Capes is an historical novel that challenges long-held beliefs about the wreck of the Georgette off Western Australia, in 1876. According to many accounts, 16-year-old Grace Bussell and Aboriginal stockman Samuel Isaacs rode their horses into treacherous surf to deliver fifty souls from the stranded ship. The incident made heroes of them both. Perth writer/academic and MHA Secretary, Marcia van Zeller, proposes an alternative reading of this tragic shipwreck tale.
email: [email protected]
Brian Lemon and his Wonderful Models
Compiled by David Nicholson.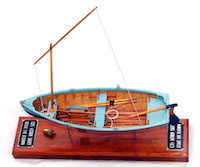 Brian Lemon was a maritime heritage enthusiast and consummate maker of ship models whose work was known and lauded around Australia and the world. Brian, who was born in Perth and had a long career as an aerial photographer, died in 2016 at the age of 84, but his legacy lives on in this book. Compiled by long-time friend and professional photographer David Nicolson, Brian Lemon and His Wonderful Models is a tribute to Brian's extraordinary body of work, told in superb photographs by David and humorous and touching tributes from his friends..
Green Seas and White Horses by Jill & Peter Worsley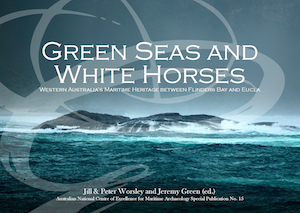 Green Seas and White Horses: Western Australia's Maritime Heritage between Flinders Bay and Eucla by Jill & Peter Worsley, edited by Jeremy Green. 361 pages, published 2015.
This is the third book in a series that form part of the Australian National Centre of Excellence for Maritime Archaeology Special Publications Series. Part I covers the shipwrecks and strandings that occurred between Flinders Bay and Eucla up until 1945. It gives particulars of the vessels, their owners, cargo and how they were lost. Part II concentrates on the reasons the vessels were there - sealing, whaling, timber, export of farm produce and related matters.
Available from the Western Australian Museum for $30 (MHA Members $20)
Last updated: 27/07/2017